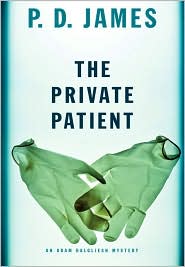 On subway trips to and from the library to work on a paper, and warm in bed on a frigid New York night (and part of the morning), I finished P. D. James's
latest
The Private Patient.
I cannot say much more about it than I did in
my other post
, that is the way with mysteries, but as the early signs indicated the past did figure importantly. After detective Adam Dalgliesh gathers everyone in the house part, the plot took over from James's careful development of character and the rhythm of the writing accelerated. While there were surprises in how things turned out, it wasn't one of those flashy endings. The mystery was a multi-layered affair. The solution to this crime unfolded quietly and then there were, shall we say, mysteries packed inside the mysteries. What I like James best for is her deeply thought out characters and how she writes about what goes on inside of them...
He sometimes wondered what it would be like to find that secret door said to be open to the lightest touch, and to feel this burden of guilt and indecision fall from his shoulders. But he knew that one dimension of human experience was closed to him as was music to the tone deaf.

...and how they appear to others.
Mogworthy, an incongruous Cerberus, had changed into a shiny blue suit and striped tie, which gave him the look of an ancient undertaker, and stood beside her, back to the fire, the only one on his feet. He turned to glare at Dalgliesh as they entered; the glare seemed to Benton more minatory than aggressive.

I love the fact that she gets not one but two mythological references into two sentences.
The Private Patient
satisfied me in the ways that the traditional British mystery always does, particularly one crafted by P. D. James.
There are two books waiting for me at the library but it is six degrees, or something like that, outside and I may not want to make the walk. I also have a section of my paper to write today, so I don't know what I will end up reading next.